White meat lovers will probably find it hard to believe, and yet … In the past, chickens were really considered pets! This is suggested by two new studies recently published in the journals Antiquity and The Proceedings of the National Academy of Sciences, which challenge what science thought it knew about taming these animals.
Chicken, the ancestor of the red jungle bird
Among the important discoveries of researchers: the essential role of rice fields in the existence of chickens. That said, it may remind you of nothing more than a recipe, but it's not! An ancestor of the chicken, the red jungle birds lived in Southeast Asia. Like many wild birds, the species withdrew from dry rice cultivation when dry rice farming arrived on the mainland. Gradually a closer relationship was established between humans and these wild birds, which gradually led to the species of chickens we know. "This comprehensive reassessment of poultry initially shows how wrong our understanding of when and where poultry domestication was. And even more exciting, we show how the advent of dry rice farming acted as a catalyst for both the poultry domestication process. as well as for its global distribution. " says Professor Greger Larson, of Oxford University.
Around 1500 BC, a process of mitigation took place on the peninsula, reports Phys. Only then would chickens be exported throughout Asia and then across the Mediterranean along the routes used by early Greek, Etruscan and Phoenician maritime traders. "With their highly adaptable but predominantly grain-based global diet, sea lanes played a particularly important role in the spread of poultry in Asia, Oceania, Africa and Europe," says Professor Joris Peters, of LMU Munich and the Bavarian Paleoanatomy Collection. .
⋙ US: a chicken tries to enter the Pentagon and is arrested!
Chicken, a revered animal?
"Chicken eating is so common that people think we have always eaten it. Our evidence shows that our past relationship with chickens was much more complex and that for centuries chickens have been celebrated and honored," Naomi said. Sykes, professor at the University of Exeter.
And for good reason! During their research, scientists initially found traces of the first chickens buried alone, and not slaughtered, but also some of them buried with men and women. And more precisely, turkeys with men, chickens with women.
⋙ The photo of the 'runaway' chicken found outside the KFC goes viral
A late arrival in European territory
Using radiocarbon dating techniques, researchers have been able to determine the age of the first chickens present in western Eurasia and northwestern Africa. Results which call into question the presumed date of arrival of the species in Europe. Thus, chickens would not have arrived in European territory before the first millennium BC, but only around -800 BC.
Then, upon their arrival in the Mediterranean region, the species would need another 1,000 years to settle in cooler climates such as those found in Scotland, Ireland, Scandinavia or Iceland.
What if we update the past?
Read also: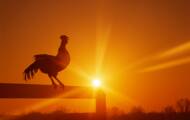 Why does the rooster crow in the morning?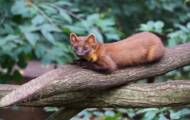 Kuna, a harmful chicken eater?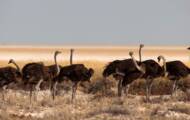 Why is the ostrich one of the few birds that does not fly?