You will love this light flour cake with oranges! For breakfast, snack or after a family meal, it is always a good idea.
Orange is a winter fruit with many virtues (rich in vitamin C, fiber, calcium…), it is also very low in calories that allows us to consume it in moderation! In addition to being liquid and greedy, it will give us a little boost in case of a mild bump. If you's too much to consume it the way it is, we love it in many cakes as well as the recipe of the day: a flourless orange cake! But we love it with chocolate or as a ginger oatmeal cake. To enjoy it all year round, prepare your own homemade orange jam.
See also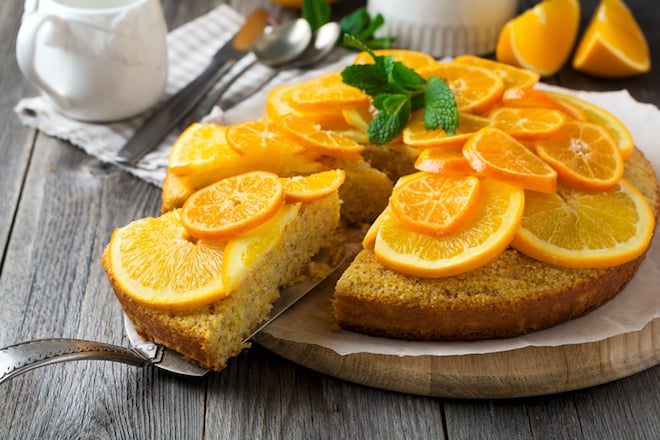 ORANGE CAKE RECIPE
For 6 people
Preparation time: 20 minutes
COOKING TIME: 45 minutes
Ingredients:
– 2 organic oranges
– 200 g sugar
– 65 g of soft butter
– 5 eggs
– 150 g ground almonds
– 1 tablespoon baking powder
Preparation:
1. Wash the oranges well and cut them into rings. Dip slices in water, cover and simmer for 15 minutes. Drain everything and keep the best slices for cake decoration. Mix the rest to get a not too fine puree.
Beat the soft butter with the sugar into a creamy mass. Add the eggs one by one then add the ground almonds, yeast and finally the orange puree.
3. In a cake pan coated with butter, pour the dough and bake for 45 minutes at 160 ° C.
4. Allow the cake to cool before decorating it with the remaining orange slices and place in the fridge.