This ultra-moist, milk-free, butter-free lemon cake is very easy to make at home. Enjoy this pasta without feeling guilty!
Those who are intolerant to dairy products (or anyone else who does not want to eat them) can quickly limit themselves to preparing pastries. That's why today we offer you a recipe without milk and butter to cook a delicious soft cake with lemon! It will be perfect for any occasion, in addition it requires a little preparation that you will see. To share (or not), you will spend a pleasant time.
See also
Soft cake with lemon without butter and without milk is very simple to make
Do you also like the feeling of acidity in your tastes? You will be served with this soft cake! To be made in individual portions or in large cakes, you will not need milk and butter to create this sweet and savory delicacy. The result, very gentle, will surprise you, your guests and your tastes! Everyone will want more for sure. So do not wait any longer to cook and make this delicious soft cake with lemon at home without milk and butter.
SOFT LEMON CAKE WITHOUT MILK AND BUTTER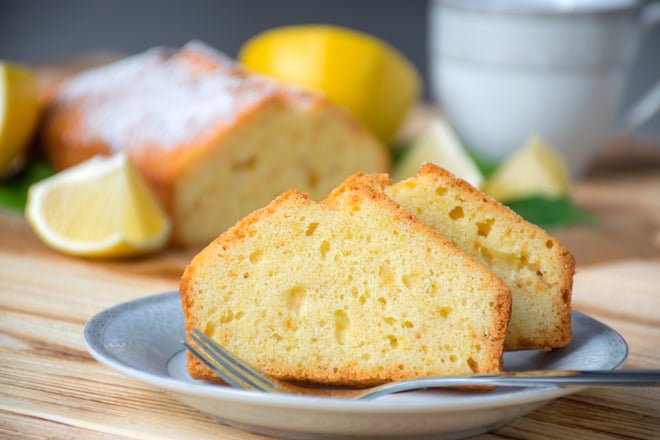 Easy recipe for a soft cake with lemon without milk and butter. Credit: Shutterstock / Nemer-T
Ingredients:
– 3 eggs
– 200 g sugar
– 2 lemons for skin and juice
– 140 ml of sunflower oil
– 250 gr of flour
– 1 box of corn starch (about 25 g)
– 1 packet of baking powder
– 1 pinch of salt
Preparation:
1. Beat the eggs with the sugar.
2. Take the peel from the lemons and then squeeze the juice. In a graduated container, add water at room temperature to the lemon juice until you reach 140 ml.
Pour the oil and water + lemon juice mixture into the eggs and sugar. Stir well for a few minutes to homogenize everything.
4. Add the sifted flour, cornstarch, baking powder, salt and lemon zest and then mix to get a smooth paste.
Transfer the mass to individual molds or to a cake tin covered with parchment paper and bake for 25 minutes at 180 ° C. Monitor cooking with the tip of a knife. Wait for the cake to cool before peeling it.
If you want to cook, here are other recipe ideas: 15 ideas for delicious egg-free cakes, 15 recipes for flour-free cakes, 15 ideas for healthy cakes with a low glycemic index.